SEO Services | Digital Strategist
Website SEO | Google's Important Rankings Factors
Chad Prinsloo  |  SEO Consultant  |  SEO Services
In SEO, ranking refers to your sites search position on the search engine (Google) results pages. A number one ranking means that when people search for a particular search keyword or phrase, your web page shows as the first result (#1).
However, there's never a guarantee of a page one or the first rank, and with SEO guidelines changing all the time, search engine rankings change with them.
SEO optimized websites get more traffic over time, and that means more leads and sales. Without regular SEO optimization, searchers won't be able to find your site, and all your hard work will be for nothing.
Your SEO goal should be to appear in the top 5 results for your search term because almost half of the clicks on any search results page go to those positions.
In this guide, I'm going to share the essential SEO ranking factors you need to improve your search rankings. By the end of this post, if you've consistently implemented these actions along with being patient and letting Google index your site, you should have a well-optimized site that brings you more business on a regular basis.
SEO Is comprised of two things. On-page SEO and Off-Page SEO.
What is On-Page SEO?
On-page SEO refers to factors on your own website that you are directly in control of, such as your content. On-page SEO is one of the most important factors for achieving higher rankings and running successful SEO campaigns. Here are some of the page optimization factors that can impact its search visibility.
#1 Quality and Original Website Content
Original content (created from scratch) is crucial to improving your ranking (articles, text, images, videos, presentations, infographics, comments, etc.) – However, keep in mind that you cannot copy existing articles/content on the internet as this will be picked up by Google's algorithm, and they will penalize your rankings if they catch you doing this.
#2 Website Page Speed
Have you ever clicked a search result in Google and had the page take too long to load? When this happens, people usually close this page and choose a different search result. Google knows that people do this because slow‐loading pages are annoying. That's why page speed is an important ranking factor to consider.
You can improve/test your site's page speed by using Google Page Speed Insights
#3 The Length of Your Page/Article Content
Long-form content will most always beat short-form content. People want to be educated and 500 words won't satisfy them anymore. Google, therefore, looks for informative content to rank first. So what is the optimal page and blog post length to help your site rank higher? Through my own experience and research, I found that content over 1600 words are most valuable to Google.
#4 SEO Keyword in the Title Tag
Title tags are important because they give readers a preview of the content that's on a page. They are also important for the search engines because their function is to determine the relevancy of the web page based on the search query. Title tags should be between 50-60 characters in length.
#5 SEO Keyword in H1 Tag
The H1 tag is usually the first header tag displayed on a page. It is in the most important of the hierarchy of tags found on a page.
For example, if you are writing an article or page on accounting services, it would make the most sense for that page's H1 tag to be something like "Why Make Use Of Our Accounting Services," or "Why Accounting Services are so important" when you use keywords in the right places on your site, SEO H1 tags are a valuable resource for any website trying to outrank their competition.
#6 SEO Using Keywords in Your Page Content
Once you decide what your websites primary keyword(s) are, you'll need to create content that includes the keyword in the head section, body section, and footer section. Google crawl's around your site pages looking for repeated words or phrases. These "keywords" tell the search engines what the site is about.
#7 Website Image Optimization
By compressing images and other file types before you upload them, you can increase page speed which is beneficial for SEO rankings. Once you've uploaded your images, you should input their alt text, caption, and description as this will help your images show up for relevant search terms within Google image search.
#8 Updating Old Content
Google favors content that is updated on a regular basis. Visitors would prefer to read something published in the last year, rather than an article from 2010 for example. Having some type of strategy to update certain types of content once every 12 months or so will help you increase your SEO ranking.
#9 Website Internal Links
An internal link is one that points to another page on the same website. Interlinking pages on your site can pass their strength between them. By adding relevant internal links you make sure Google understands the relevance of pages and the relationship between pages.
What is Off-Page SEO?
Off-page SEO refers to the factors that impact your site's ability to rank, but take place elsewhere online. For example, if I reach out and ask someone to link to my website, that's off‐page SEO. Why? Because I didn't change anything about my website during that process.
Here are the key off-page SEO factors:
#1 Relevant Backlinks
When other popular and authoritative websites in the same industry as you link back to your website, you appear more trustworthy in the eyes of Google. Backlinks are the most important Off-page SEO factors.
Other Important SEO Factors
There are more important factors that can affect your site's search visibility as well.
#1 Having A Secure Website (HTTPS)
In 2017, Google announced that its Chrome browser would begin to flag sites as "not secure" in the URL bar when they do not have an SSL certificate installed.
Here is what Chrome will look like when you implement or correctly install an SSL certificate (HTTPS)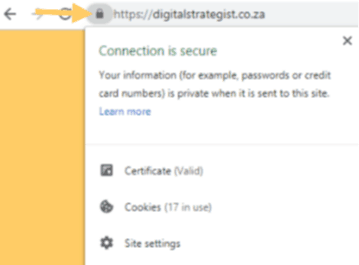 #2 Mobile Friendliness
More people use mobile devices than desktops to access the internet. Google looks whether you have a responsive site that automatically resizes to fit the device, aswell as accessibility and navigability. If your site isn't mobile-optimized you risk being outranked by your competitors, who are mobile optimized.
#3 Sitemap
An XML sitemap is a list of your website's URLs. A sitemap helps Google index all web pages on your site. This helps tell Google what pages your website includes and which one's are important.
#4 Domain Age
Almost 60% of the sites that have a top ten Google search ranking are three years old or more. Data from an Ahrefs study of two million pages indicates that very few sites less than a year old achieve that ranking. So if you've had your site for 3 years or longer, and have optimized it using the tips in this article, that's already an advantage.
#5 Google Search Console Optimization
Lastly, having your site verified at Google Webmasters Tools will help you improve the indexing of your site. Google search console also provides valuable data you can use to optimize your site better.